Welcome, dog lovers! Today, we embark on a journey to explore the world of Kirkland dog food—a brand that has earned a solid B rating in our meticulous evaluation. With a remarkable score of 80/100 on our scale, this brand has caught the attention of many canine connoisseurs.
The below NextGen Dog's Kirkland dog food review analyzes the product's ingredients and nutrition, sourcing and manufacturing, and any certifications and marketing claims used.
This dog food review was hand-written by a certified veterinarian and used an evidence-based evaluation approach for accuracy.
Most of the ingredients are sourced in the USA, but not all of them. It is unclear where the manufacturer sources their other ingredients (update pending).
The following Kirkland dry dog food formulas are available:
Adult Chicken, Rice, and Vegetable Formula
Puppy Chicken, Rice, and Vegetable Formula
Small Dog Chicken, Rice, and Vegetable Formula
Healthy Weight Chicken, Rice, and Vegetable Formula
Mature Dog Chicken, Rice, and Egg Formula
For this NGD Kirkland dog food review, the company's Kirkland Adult Chicken, Rice, and Vegetable Formula have been chosen to represent their line of dry dog foods.
Note: This blog post is intended for informational purposes only. Always consult with your veterinarian before making any changes to your dog's diet.
Ingredients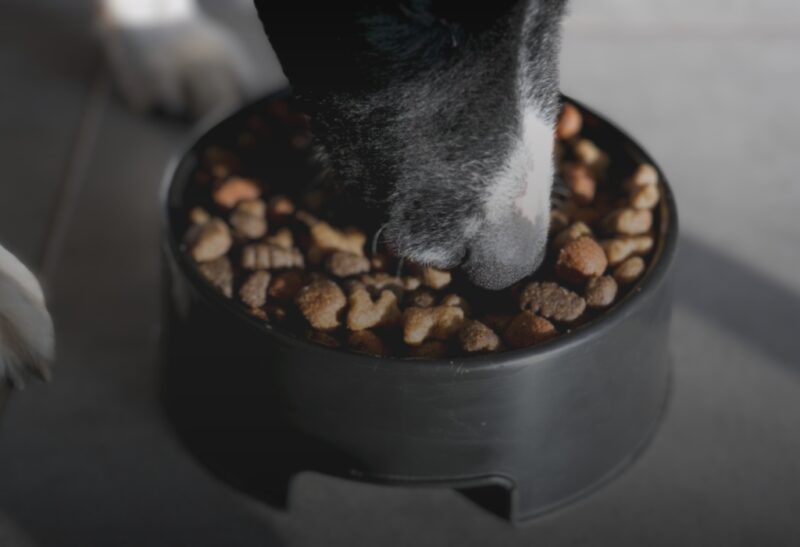 Kirkland dog food meets AAFCO nutrient profile requirements, which ensures an appropriate nutritional value for canines.
Ingredients
Chicken
Chicken meal
Whole-grain brown rice
Cracked pearled barley
Chicken fat (preserved with mixed tocopherols)
Egg product
Dried beet pulp
Potatoes
Fish meal
Flaxseed
Natural flavor
Brewers dried yeast
Millet
Potassium chloride
Salt
Choline chloride
Carrots
Peas
Dried kelp
Apples
Cranberries
Rosemary Extract
Parsley flake
Dried chicory root
Glucosamine hydrochloride
Dried Lactobacillus acidophilus fermentation product
Dried Bifidobacterium animalis fermentation product
Dried Lactobacillus reuteri fermentation product
Vitamin E supplement
Iron proteinate
Zinc proteinate
Copper proteinate
Ferrous sulfate
Zinc sulfate
Copper sulfate
Potassium iodide
Thiamine mononitrate
Manganese proteinate
Manganous oxide
Chondroitin sulfate
Ascorbic acid
Vitamin A supplement
Biotin
Niacin
Calcium pantothenate
Manganese sulfate
Sodium selenite
Pyridoxine hydrochloride (vitamin B6)
Vitamin B12 supplement
Riboflavin
Vitamin D supplement
Folic acid
Most Important Ingredients
Chicken:
Defined as a clean combination of flesh and skin with or without accompanying bone, exclusive of feathers. Chicken meat is an excellent source of protein for dogs. Since ingredients are listed by weight and raw chicken contains up to 80% water, this ingredient contributes much less to overall nutrition when cooked.
Chicken Meal:
This refers to chicken that has been ground or reduced in particle size. Meat meal is a dried product made through rendering. It can be a highly nutritious and concentrated source of protein that improves the amino acid profile of dog food [1, 2, 3, 4].
Rendering is the process of separating the components that makeup chicken, allowing the protein portion to be more concentrated. It's considered a good source of protein [5].
Whole Grain Brown Rice: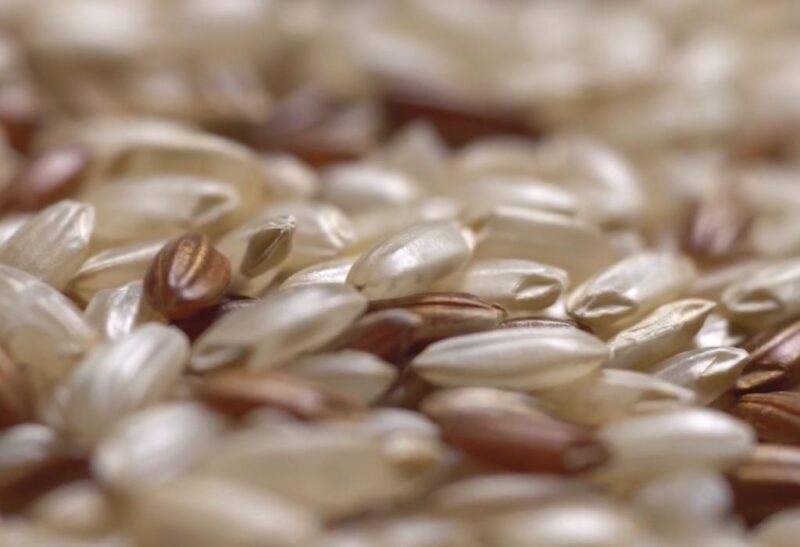 This is unpolished rice after the kernels have been removed. Brown rice is a highly nutritious complex carbohydrate source that's high in vitamin E and fiber [6, 7].
Cracked Pearled Barley:
Barley is a cereal grain that provides a source of carbohydrates, protein, fiber, B vitamins such as niacin and Vitamin B6, and some minerals. It's a grain that contains gluten so this could be taken into consideration for dogs with allergies.
Barley by the AAFCO definition consists of 8% sound barley and must not contain more than 3% heat-damaged kernels, 6% foreign material, 20% other grains, and 10% wild oats. This is an average source of carbs and fiber but may have some health benefits for dogs [8, 9, 10].
Chicken Fat (preserved with mixed tocopherols):
The definition of poultry fat is fat obtained from poultry tissue during rendering. Only the fatty matter natural to the product should be present.
No added free fatty acids or other materials obtained from fat should be added. If an antioxidant is used, as it is in this case, the common name must be listed along with the term 'preservative,' or 'preserved with.'
A balanced diet will contain fat, which is critical for the absorption of fat-soluble vitamins, and chicken fat, while not appetizing, is a nutritious source. Mixed Tocopherols are a Vitamin E compound derived from sources like vegetable oils, fish, and nuts and used for preserving foods. They are safe to use [11, 12].
Vitamin E itself has several health benefits for dogs as an antioxidant helping with the absorption of free radicals and may be beneficial in cancer and cardiovascular disease [13, 14, 15, 16].
Egg product: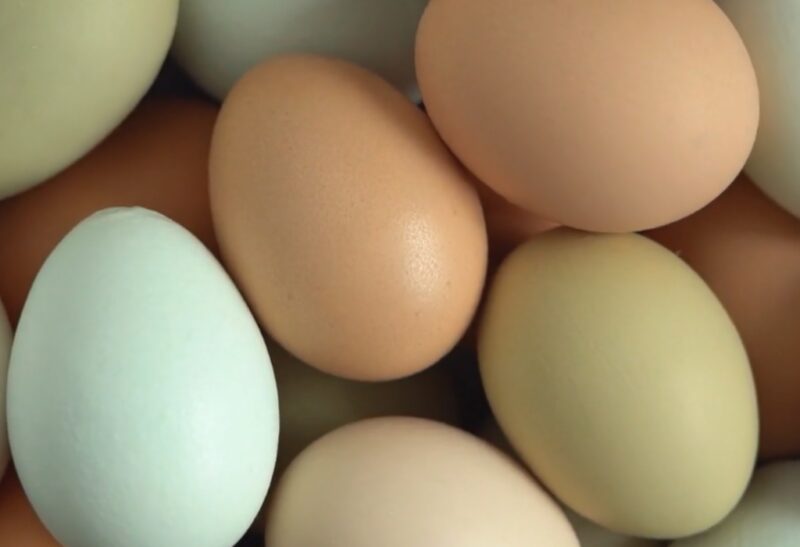 Egg product is obtained from egg graders, breakers, or hatchery operations that are then dehydrated and handled as frozen or liquid. It is free of shells and other non-egg materials. It is labeled and governed by USDA regulations for eggs.
What this means is that the egg product is essentially eggs, but in a form that is more convenient to use in a manufacturing plant. Eggs are highly nutritious and digestible and are an excellent source of protein and vitamins [17, 18, 19]. Research on egg consumption in dogs is still lacking, however.
Dried Beet Pulp:
Beet pulp is the dried residue from sugar beets. It is a common ingredient in many pet foods and is used as a good source of insoluble fiber [20, 21, 22] It is also moderately fermentable and thus benefits intestinal transit time and can improve a dog's stool quality.
Studies suggest that including beet pulp as an alternative fiber, source is promising as there's a growing body of evidence for its health benefits for pets [23, 24, 25].
Potatoes:
Potatoes can be a healthy source of carbohydrates for dogs.
Fish Meal:
Fish meal is defined as the clean, dried, ground tissue of undecomposed whole fish or fish cuttings with or without the oil portion extracted. Fish meal is a highly digestible protein containing a significant amount of amino acids, vitamins, and minerals.
It is a popular choice of highly digestible protein containing significant amino acids, vitamins, and minerals [26, 27].
The health benefits of supplementing dog diets with fatty acids are well documented and can help boost an immune system [28]. Knowing the sources of fish used in fish meals is important, however [29]. It is unclear what type of fish is the source of fish meal in this case.
Flaxseed:
Flaxseed contains omega-3 fatty acids, lignans, and both soluble and insoluble fiber. This is a healthy source of essential fatty acids for dogs that can improve the dog's coat, hair, and skin [30, 31, 32].
Other Additives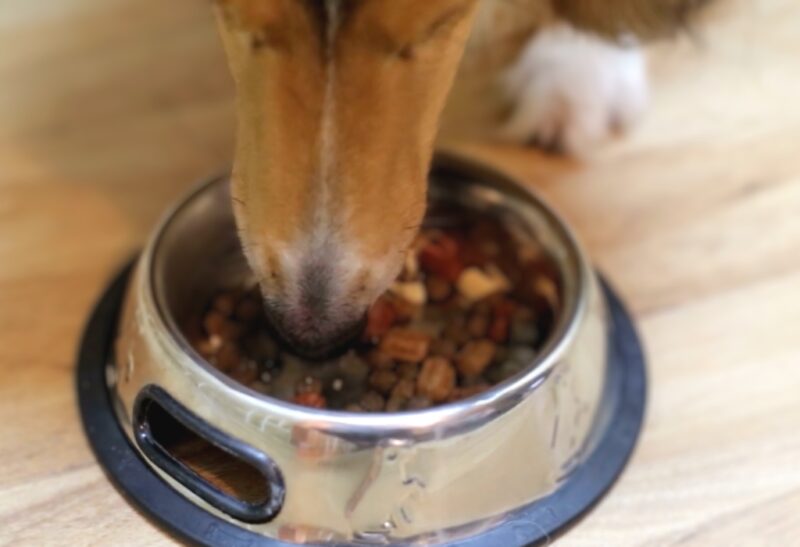 Fermented Products:
Kirkland dog food has added probiotics including, dried Lactobacillus acidophilus fermentation product, dried Bifidobacterium animalis fermentation product, and dried Lactobacillus reuteri fermentation product.
These are meant to help with gastrointestinal health and digestion in dogs, especially the digestion of fiber sources [33, 34].
However, it's possible to argue that it may be difficult to include enough probiotics in dog food and have them survive. Cooking and extruding will have a significant effect on bacteria's survival.
Research is contradictory on this. Some studies evaluating commercial probiotic-rich pet foods show very low levels of organisms present [35, 36].
Other studies indicate that probiotics can be effectively incorporated into dog foods and successfully infest the canine's gut with healthy bacteria [37, 38].
An owner really wants to use a probiotic is better off giving a supplement directly rather than relying on a diet.
Glucosamine and Chondroitin:
This diet also has added glucosamine and chondroitin which have been shown to potentially improve joint health and function, but the evidence is inconclusive [39, 40, 41].
The amounts in this diet are unlikely to have much therapeutic benefit, and a supplement separate from the diet is generally necessary to see appreciable results.
Suspicious Ingredients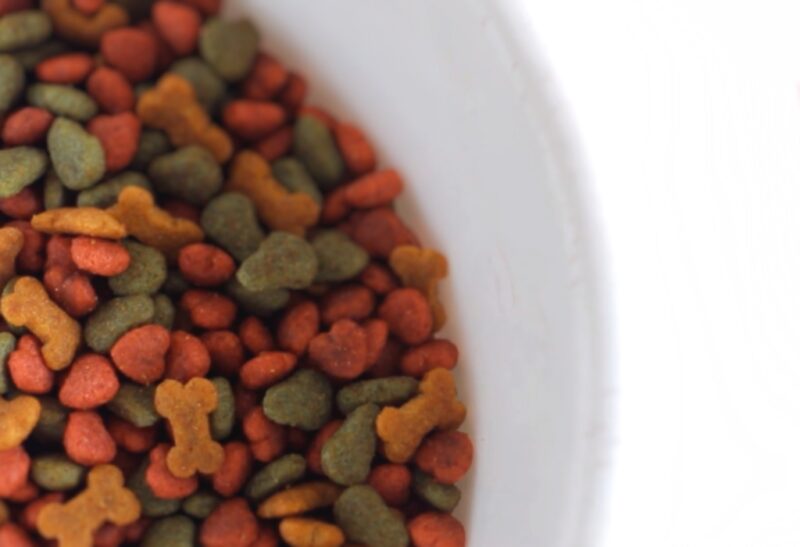 Kirkland dog food has no ingredients added that could be harmful or unhealthy to dogs.
The Bottom Line
Overall, the ingredients in Kirkland Adult Chicken, Rice, and Vegetable Formula are average. Kirkland dog food contains no artificial flavors, colors, or preservatives.
The ingredient list is ordered by weight. Chicken is first on the list since meat contains significant water, thus making it the heaviest. This doesn't indicate that it is the biggest contributor to overall nutrition.
One important limitation of dog food labels is their inability to provide information on the quality of ingredients. While the quality of the ingredients can't be determined by the label, the ingredients themselves are all wholesome, nutritious, healthy, and appear to be well-balanced.
Nutrient Analysis
Below is a guaranteed nutrient analysis of Kirkland Adult Chicken, Rice, and Vegetable Formula.
Protein: 26% minimum
Fat: 16% minimum
Carbohydrates: undetermined
Fiber: 4.0%
Calories: 3,754 kcal/kg (393 kcal/cup) calculated metabolizable energy.
Adult dog food protein content is typically in the range of 20-35% which is appropriate for most healthy dogs [42].
Fiber is beneficial to dogs in many ways but further research is required on several health benefit claims [43, 44, 45, 46].
However, crude fiber listed on NutriSource dog food labels is not a particularly accurate measure of actual total dietary fiber content [47].
Certifications and Claims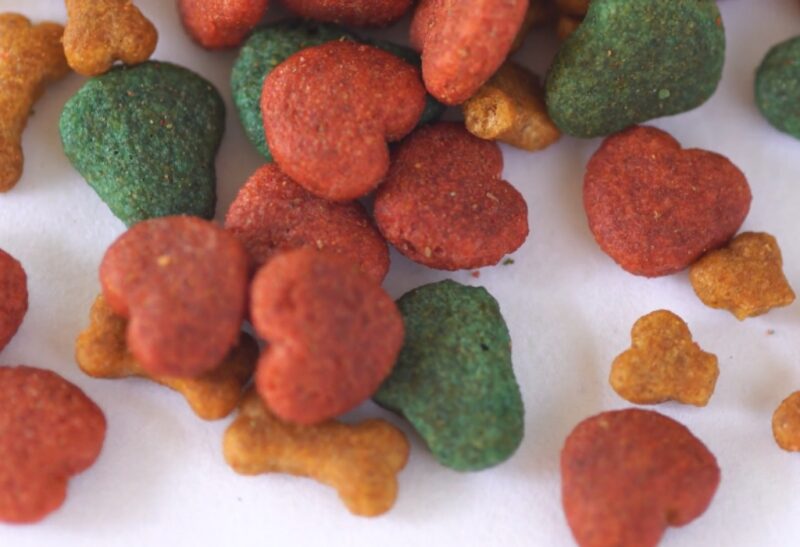 Dog food manufacturers can have their foods tested and certified to meet specific regulations.
Some companies often use obscure or undefined statements. Below, we analyze all certifications and claims made by the company for accuracy and definitions.
Certifications
Kirkland dog food has no specific certifications to evaluate.
Nutrition Claims
On their website, Kirkland claims to be a "super-premium" dog food providing complete and balanced nutrition for adult maintenance.
Terms such as "Premium" and "Super Premium" have no actual definition under AAFCO or FDA. They are used solely for marketing purposes.
Since the Chicken, Rice, and Vegetable portion of the label does not have a modifier, such as "-dinner" or "-feast," per the FDA regulations this implies the diet is comprised of at least 70% of those ingredients.
AAFCO Requirements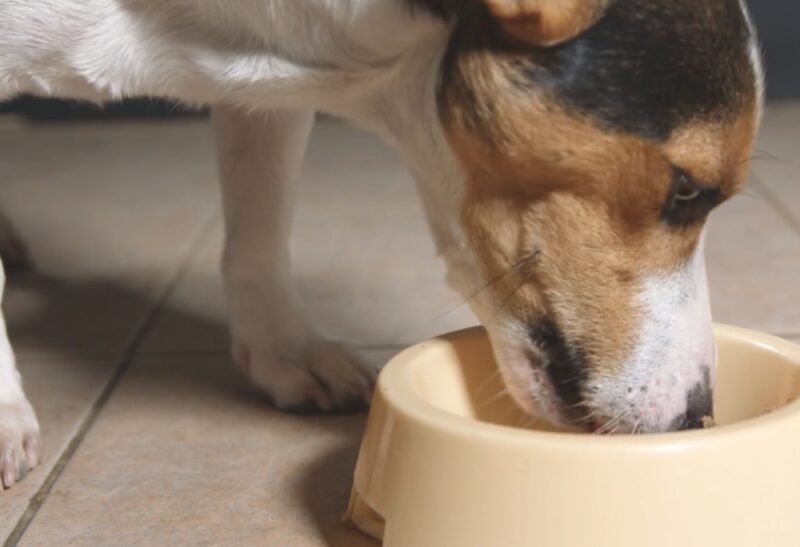 The nutrition standards set by the AAFCO are voluntary.
The presence of a statement by the AAFCO on the dog food label is the most important indicator of dog food's nutritional adequacy.
Ingredient Requirements: All Kirkland dog food line meets AAFCO nutrient profiles for maintenance when evaluating their diet using food composition tables of the ingredients. All of Kirkland's dry dog foods have an AAFCO statement on the bag.
Feeding Trials: Kirkland dog food has not undergone any food trials with dogs.
Diet trials are the most stringent and costly AAFCO standard and the highest AAFCO standard that can be met. The lack of a diet trial does not necessarily indicate that this dog food isn't high quality.
Although the AAFCO statement claims to be adequate nutrition for all life stages, this diet may not be appropriate for puppies, especially large breed growing puppies that need very precise ratios of vitamins and minerals to calorie content.
Other Evaluations
Other factors are taken into consideration for the final assessment of this dog food brand.
"Best Use By" Date on the Label
When considering dog food's quality control, it is important to have a "Best Use By" date present on the label to ensure proper shelf life.
Kirkland dog food includes a "Best Use By" label on its packaging.
While seemingly inconsequential, the presence of this date is an important indicator of a dog food's quality and the company's commitment to safety.
Manufacturer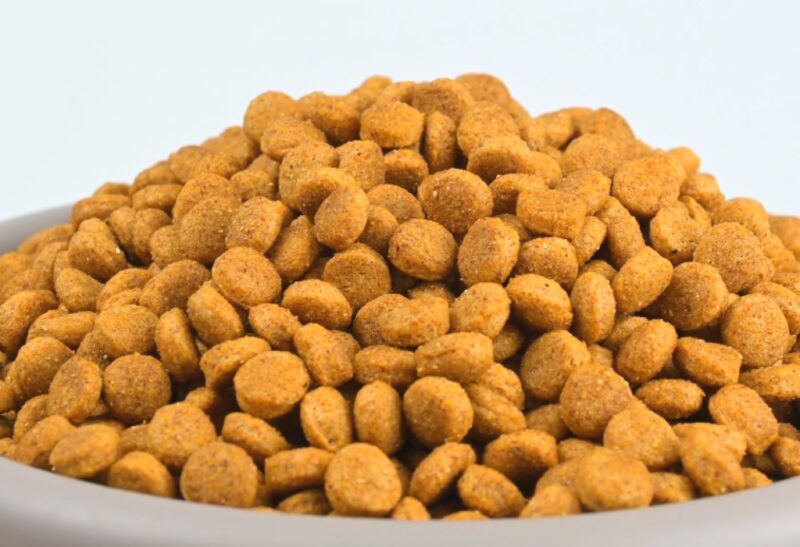 All of Kirkland's dry dog foods are produced by Diamond Pet Foods manufacturer (owned by Schell and Kampeter, Inc).
Diamond Pet Foods' manufacturer also produces a variety of other dog food brands. Those include:
Diamond
Taste of the Wild (A rating)
NutraGold
Nutra Nuggets
Premium Edge
4Health (B rating)
Diamond Pet Foods are one of the largest dog food manufacturers in the United States. The company has four different facilities across the nation and produces private-label dog foods as well.
As a dog food manufacturing company, they have a comprehensive safety and quality testing program in place but have had recalls in the past years for various reasons.
Kirkland's website maintains that most ingredients are sourced in the USA, but not all. It is unclear where the manufacturer sources their other ingredients (update pending).
Testing, Safety, and Quality Control
Diamond Pet Foods have many testing parameters in place in order to ensure food safety.
They do on-site mycotoxin and microbiological product testing weekly.
The company tests for oxidative stability of fats and oils to ensure these ingredients don't go rancid.
Diamond Pet Foods' website claims the company does a test and hold, meaning samples are collected from products before going to distribution and are tested by an independent laboratory. Each sample is kept for a time equal to the shelf life of the product.
Recalls
The diamond manufacturer has had several diet recalls over the years.
Kirkland dog food brand specifically was recalled in May, 2012 for concerns about contamination with salmonella.
Summary of Kirkland Dog Food Review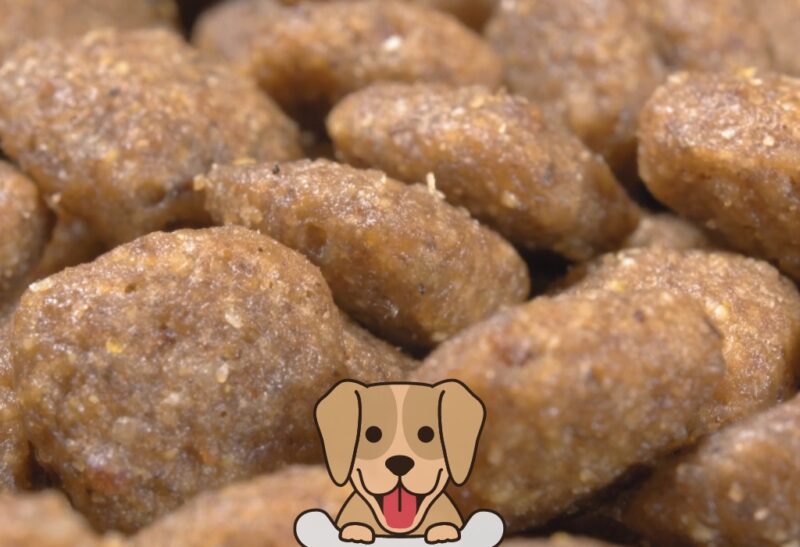 This brand has scored 80 points out of possible 100 points for a good B rating, according to our Dog Food Rating System.
Kirkland Adult Chicken, Rice,  and Vegetable Formula dog food shares many of the characteristics of a decent quality dog food.
This brand does not claim any certifications, but it meets AAFCO nutrition adequacy requirements and includes a "Best Use By" date.
While the ingredients listed are limited in giving insight into their overall quality, they are appropriate for dogs. There are no added artificial flavors or colors.
The manufacturer is located in the USA and undergoes standard safety testing to assure quality. However, the source of all the ingredients could not be determined.
References:
Masayuki Funaba, Yuko Oka, Shinji Kobayashi, Masahiro Kaneko, Hiromi Yamamoto, Kazuhiko Namikawa, Tsunenori Iriki, Yoshikazu Hatano, Matanobu Abe.Evaluation of meat meal, chicken meal, and corn gluten meal as dietary sources of protein in dry cat food. Can J Vet Res. 2005 Oct; 69(4): 299–304.
Karthik P1, Kulkarni VV, Sivakumar K. Preparation, storage stability and palatability of spent hen meal based pet food. J Food Sci Technol. 2010 Jun;47(3):330-4. doi: 10.1007/s13197-010-0053-x. Epub 2010 Jul 29.
Funaba M1, Oka Y, Kobayashi S, Kaneko M, Yamamoto H, Namikawa K, Iriki T, Hatano Y, Abe M. Evaluation of meat meal, chicken meal, and corn gluten meal as dietary sources of protein in dry cat food. Can J Vet Res. 2005 Oct;69(4):299-304.
Zier CE1, Jones RD, Azain MJ. Use of pet food-grade poultry by-product meal as an alternate protein source in weanling pig diets. J Anim Sci. 2004 Oct;82(10):3049-57.
Meeker DL, Meisinger JL. COMPANION ANIMALS SYMPOSIUM: Rendered ingredients significantly influence sustainability, quality, and safety of pet food. J Anim Sci. 2015 Mar;93(3):835-47. doi: 10.2527/jas.2014-8524.
Tian S1, Nakamura K, Kayahara H. Analysis of phenolic compounds in white rice, brown rice, and germinated brown rice. J Agric Food Chem. 2004 Jul 28;52(15):4808-13.
Liu S1, Stampfer MJ, Hu FB, Giovannucci E, Rimm E, Manson JE, Hennekens CH, Willett WC. Whole-grain consumption and risk of coronary heart disease: results from the Nurses' Health Study. Am J Clin Nutr. 1999 Sep;70(3):412-9.
Behall KM1, Scholfield DJ, Hallfrisch J. Diets containing barley significantly reduce lipids in mildly hypercholesterolemic men and women. Am J Clin Nutr. 2004 Nov;80(5):1185-93.
Dongowski G1, Huth M, Gebhardt E, Flamme W. Dietary fiber-rich barley products beneficially affect the intestinal tract of rats. J Nutr. 2002 Dec;132(12):3704-14.
Emmanuel DG1, Dunn SM, Ametaj BN. Feeding high proportions of barley grain stimulates an inflammatory response in dairy cows. J Dairy Sci. 2008 Feb;91(2):606-14. doi: 10.3168/jds.2007-0256.
Gross KL1, Bollinger R, Thawnghmung P, Collings GF. Effect of three different preservative systems on the stability of extruded dog food subjected to ambient and high temperature storage. J Nutr. 1994 Dec;124(12 Suppl):2638S-2642S.
John W. Hilton. Antioxidants: function, types and necessity of inclusion in pet foods. Can Vet J. 1989 Aug; 30(8): 682–684.
Packer L1. Interactions among antioxidants in health and disease: vitamin E and its redox cycle. Proc Soc Exp Biol Med. 1992 Jun;200(2):271-6.
Gey KF1. Vitamins E plus C and interacting conutrients required for optimal health. A critical and constructive review of epidemiology and supplementation data regarding cardiovascular disease and cancer. Biofactors. 1998;7(1-2):113-74.
Rock CL1, Jacob RA, Bowen PE. Update on the biological characteristics of the antioxidant micronutrients: vitamin C, vitamin E, and the carotenoids. J Am Diet Assoc. 1996 Jul;96(7):693-702; quiz 703-4.
Valk EE1, Hornstra G. Relationship between vitamin E requirement and polyunsaturated fatty acid intake in man: a review. Int J Vitam Nutr Res. 2000 Mar;70(2):31-42.
Polzin DJ1, Osborne CA. The importance of egg protein in reduced protein diets designed for dogs with renal failure. J Vet Intern Med. 1988 Jan-Mar;2(1):15-21.
Scherz, H.; Senser, F. Food composition and nutrition tables. Food composition and nutrition tables. ISBN3-88763-027-0. 1994 pp. xxviii + 1091 pp.
Jose M. Miranda, Xaquin Anton, Celia Redondo-Valbuena, Paula Roca-Saavedra, Jose A. Rodriguez, Alexandre Lamas, Carlos M. Franco, Alberto Cepeda. Egg and Egg-Derived Foods: Effects on Human Health and Use as Functional Foods. Nutrients. 2015 Jan; 7(1): 706–729. Published online 2015 Jan 20. doi: 10.3390/nu7010706
Sunvold GD1, Fahey GC Jr, Merchen NR, Bourquin LD, Titgemeyer EC, Bauer LL, Reinhart GA. Dietary fiber for cats: in vitro fermentation of selected fiber sources by cat fecal inoculum and in vivo utilization of diets containing selected fiber sources and their blends. J Anim Sci. 1995 Aug;73(8):2329-39.
Sunvold GD1, Fahey GC Jr, Merchen NR, Titgemeyer EC, Bourquin LD, Bauer LL, Reinhart GA. Dietary fiber for dogs: IV. In vitro fermentation of selected fiber sources by dog fecal inoculum and in vivo digestion and metabolism of fiber-supplemented diets. J Anim Sci. 1995 Apr;73(4):1099-109.
Sunvold GD1, Fahey GC Jr, Merchen NR, Reinhart GA. In vitro fermentation of selected fibrous substrates by dog and cat fecal inoculum: influence of diet composition on substrate organic matter disappearance and short-chain fatty acid production. J Anim Sci. 1995 Apr;73(4):1110-22.
Maria R. C. de Godoy, Katherine R. Kerr, George C. Fahey, Jr. Alternative Dietary Fiber Sources in Companion Animal Nutrition. Nutrients. 2013 Aug; 5(8): 3099–3117. Published online 2013 Aug 6. doi: 10.3390/nu5083099
de Godoy MR1, Bauer LL, Parsons CM, Fahey GC Jr. Select corn coproducts from the ethanol industry and their potential as ingredients in pet foods. J Anim Sci. 2009 Jan;87(1):189-99. doi: 10.2527/jas.2007-0596. Epub 2008 Sep 12.
Fahey GC Jr1, Merchen NR, Corbin JE, Hamilton AK, Bauer LL, Titgemeyer EC, Hirakawa DA. Dietary fiber for dogs: III. Effects of beet pulp and oat fiber additions to dog diets on nutrient intake, digestibility, metabolizable energy, and digesta mean retention time. J Anim Sci. 1992 Apr;70(4):1169-74.
Funaba M1, Tanak T, Kaneko M, Iriki T, Hatano Y, Abe M. Fish meal vs. corn gluten meal as a protein source for dry cat food. J Vet Med Sci. 2001 Dec;63(12):1355-7.
Jablonski EA1, Jones RD, Azain MJ. Evaluation of pet food by-product as an alternative feedstuff in weanling pig diets. J Anim Sci. 2006 Jan;84(1):221-8.
Cho JH1, Kim IH. Fish meal–nutritive value. J Anim Physiol Anim Nutr (Berl). 2011 Dec;95(6):685-92. doi: 10.1111/j.1439-0396.2010.01109.x. Epub 2010 Dec 28.
Folador JF1, Karr-Lilienthal LK, Parsons CM, Bauer LL, Utterback PL, Schasteen CS, Bechtel PJ, Fahey GC Jr. Fish meals, fish components, and fish protein hydrolysates as potential ingredients in pet foods. J Anim Sci. 2006 Oct;84(10):2752-65.
Rees CA1, Bauer JE, Burkholder WJ, Kennis RA, Dunbar BL, Bigley KE. Effects of dietary flax seed and sunflower seed supplementation on normal canine serum polyunsaturated fatty acids and skin and hair coat condition scores. Vet Dermatol. 2001 Apr;12(2):111-7.
Purushothaman D1, Yvonne Brown W, Wu SB, Vanselow B. Evaluation of breed effects on n-3 PUFA metabolism with dietary flaxseed oil supplementation in dogs. Br J Nutr. 2011 Oct;106 Suppl 1:S139-41. doi: 10.1017/S0007114511000523.
Bauer JE1, Dunbar BL, Bigley KE. Dietary flaxseed in dogs results in differential transport and metabolism of (n-3) polyunsaturated fatty acids. J Nutr. 1998 Dec;128(12 Suppl):2641S-2644S.
Kelley RL1, Minikhiem D, Kiely B, O'Mahony L, O'Sullivan D, Boileau T, Park JS.Clinical benefits of probiotic canine-derived Bifidobacterium animalis strain AHC7 in dogs with acute idiopathic diarrhea. Vet Ther. 2009 Fall;10(3):121-30.
Sauter SN1, Benyacoub J, Allenspach K, Gaschen F, Ontsouka E, Reuteler G, Cavadini C, Knorr R, Blum JW. Effects of probiotic bacteria in dogs with food responsive diarrhoea treated with an elimination diet. J Anim Physiol Anim Nutr (Berl). 2006 Aug;90(7-8):269-77.
J. Scott Weese, Luis Arroyo. Bacteriological evaluation of dog and cat diets that claim to contain probiotics. Can Vet J. 2003 Mar; 44(3): 212–215.
J. Scott Weese, Hayley Martin. Assessment of commercial probiotic bacterial contents and label accuracy. Can Vet J. 2011 Jan; 52(1): 43–46.
Baillon ML1, Marshall-Jones ZV, Butterwick RF. Effects of probiotic Lactobacillus acidophilus strain DSM13241 in healthy adult dogs. Am J Vet Res. 2004 Mar;65(3):338-43.
Titta J. K. Manninen, Minna L. Rinkinen, Shea S. Beasley, Per E. J. Saris.Alteration of the Canine Small-Intestinal Lactic Acid Bacterium Microbiota by Feeding of Potential Probiotics. Appl Environ Microbiol. 2006 Oct; 72(10): 6539–6543. doi: 10.1128/AEM.02977-05
McCarthy G1, O'Donovan J, Jones B, McAllister H, Seed M, Mooney C.Randomised double-blind, positive-controlled trial to assess the efficacy of glucosamine/chondroitin sulfate for the treatment of dogs with osteoarthritis. Vet J. 2007 Jul;174(1):54-61. Epub 2006 May 2.
Canapp SO Jr1, McLaughlin RM Jr, Hoskinson JJ, Roush JK, Butine MD.Scintigraphic evaluation of dogs with acute synovitis after treatment with glucosamine hydrochloride and chondroitin sulfate. Am J Vet Res. 1999 Dec;60(12):1552-7.
Neil KM1, Caron JP, Orth MW. The role of glucosamine and chondroitin sulfate in treatment for and prevention of osteoarthritis in animals. J Am Vet Med Assoc. 2005 Apr 1;226(7):1079-88.
Wannemacher RW Jr, McCoy JR. Determination of optimal dietary protein requirements of young and old dogs. J Nutr. 1966 Jan;88(1):66-74.
Butterwick RF1, Markwell PJ, Thorne CJ. Effect of level and source of dietary fiber on food intake in the dog. J Nutr. 1994 Dec;124(12 Suppl):2695S-2700S.
Koppel K1, Monti M2, Gibson M3, Alavi S4, Donfrancesco BD5, Carciofi AC6. The Effects of Fiber Inclusion on Pet Food Sensory Characteristics and Palatability. Animals (Basel). 2015 Feb 16;5(1):110-25. doi: 10.3390/ani5010110.
Kadri Koppel, Mariana Monti,2 Michael Gibson,3 Sajid Alavi,3 Brizio Di Donfrancesco, Aulus Cavalieri Carciofi. The Effects of Fiber Inclusion on Pet Food Sensory Characteristics and Palatability. Animals (Basel). 2015 Mar; 5(1): 110–125. Published online 2015 Feb 16. doi: 10.3390/ani5010110
de-Oliveira LD1, Takakura FS, Kienzle E, Brunetto MA, Teshima E, Pereira GT, Vasconcellos RS, Carciofi AC. Fibre analysis and fibre digestibility in pet foods–a comparison of total dietary fibre, neutral and acid detergent fibre and crude fibre. J Anim Physiol Anim Nutr (Berl). 2012 Oct;96(5):895-906. doi: 10.1111/j.1439-0396.2011.01203.x. Epub 2011 Aug 3.
Farcas AK1, Larsen JA, Fascetti AJ. Evaluation of fiber concentration in dry and canned commercial diets formulated for adult maintenance or all life stages of dogs by use of crude fiber and total dietary fiber methods. J Am Vet Med Assoc. 2013 Apr 1;242(7):936-40. doi: 10.2460/javma.242.7.936.